Howdy New Neighbors
Hall of Fame Election Day is the hands down best event of the post-season, with all due respect to the November issuance of the recent season's hardware. Yesterday, Bert Blyleven and Robbie Alomar became my fellow Cooperstownians, to be enshrined this summer a few blocks away on Main St.
My feelings on the pointless selection of Pat Gillick were laid out in December (In Celebration of the Plantation Owners). A few words on Blyleven.
Was Bert ever seen as one of the best of his era? Nah, although if Candy Cummings can be inducted for "inventing" the curveball, surely Blyleven has earned his way to the Plaque Gallery with the best breaker of his time. That pitch was some nasty medicine and universally recognized as numero uno  during Blyleven's pitching career.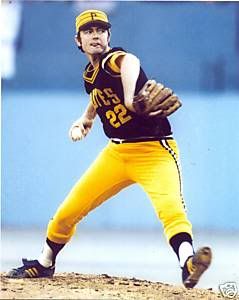 Was Bert even the best on his staff?  Definitely on the 1973 Twins, his only  20 win season. Absolutely for the 1984  Indians, when he won 18 games for a 75  win horror of a club. Quite often he  played second fiddle to the Gaylord  Perrys and John Candelarias. Sometimes  even to the Jim Bibbys.
Blyleven is another version of "Sutton  Syndrome." I've always had trouble with  Don Sutton as a Hall of Famer, though  his numbers are indisputably worthy.  It's just that Sutton was never a #1 kinda  guy, rarely the ace of his own staff. In Bert's favor is his 287 wins for crap teams, much more remarkable than Don's 324 for consistently solid teams. But I'm good with Blyleven's election. See you in July.
Robbie Alomar. The best second baseman of the last 30 years, possibly the best of the last six decades when you throw Joe Morgan into the mix. Certainly in the top five of his position all-time. A sure first ballot HOFer last year.
But no. Enough writers' delicate sensibility was shaken by Alomar's spitting on an umpire John Hirschbeck in 1996. "Oh, my heavens, this ruffian must be handed a stern lesson." Please. Would these same scribes have made Ted Williams wait a year for his spewing and bat tossing? Doubtful.
It was a shock that Alomar didn't get in last year. Jumping from just under the needed 75% to 90% is absurd, like the Republican Senators who fought "Don't Ask, Don't Tell" and wouldn't allow it to come for a vote. Once it did, it got 65 votes, many from the same people who argued so hard against it. You think Alomar's a bad actor a la Pete Rose? Keep him out then, but don't give him some  schoolmarmy punishment. It made the writers look silly.
As to Robbie the player, there was no one as fun to watch in  the field. No one. He was a diving, spinning, laser throwing  artist at the keystone and, when paired with Omar Vizquel  (see you in Cooperstown down the road O.V.), it was  Nijinksy and Nureyev with more speed and better bats.
Before the 1988 season, the spotlight was put on an Alomar, but it was Sandy Alomar Jr., Robbie's catcher brother who was the more heralded rookie.
In many ways, Roberto's debut was a surprise. At the plate, Alomar was strong, powerful, a solid run producer. On the bases he was a blur. From 1988-2001, Roberto Alomar was not only the best at his position, but one of the top players in the game. At 34, of course beginning in his first season with the Mets, Alomar began a steep decline that resulted in a weak and sad end to a stellar career at the age of 36. It was sad to see him fall apart so quickly, but it didn't dim the memory of how great he was.
Karen was pregnant for most of 1992, and as we neared the December due date, we had, for the second time in our married lives, a serious naming discussion. I didn't like most names for some reason, but after watching the post-season games, one name kept repeating itself in my head: Robbie. I heard that name incessantly during the playoffs, when Alomar slugged, swiped and swooped his way to the ALCS MVP. Though he slumped in the World Series, the Blue Jays couldn't have won it all without him. Robbie: a great name and no one we knew had used it.
So Robbie it was to be. He was two weeks late and finally arrived on January 5, 1993. That was 18 years ago yesterday, the same day his namesake received the ultimate honor.