Where Is the Love?
After returning from almost two weeks disconnected from professional sports to find his Yankees winless against the Red Sox, Josh Deitch desperately reminds himself why he loves baseball.
Prior to Thursday's Yankees-Red Sox game, my buddy Larry—a sports polygamist of the worst kind, having grown up in New York and now rooting for all things Boston—sent me the following email:
I'm going to Fenway tonight and seeing CC pitch at Fenway for the first time this year. I can see it going one of two ways. The Red Sox crushing him early and blowing the Yanks away again…OR CC holds them to one or two runs, pitches a gem and then gets let down when the Yanks bullpen coughs up the lead in the 8th. It's a toss-up :-).
I hate Larry right now.  I told him so.  The Yankees are now 0-8 against the Red Sox this season.  In order to keep myself from guzzling a gallon of gasoline or buying a high-powered rifle and hunting down Alfredo Aceves, who wound up with a blown save by allowing three inherited runners to score, I'm instead going to remind myself of a few of the 3,756,842 reasons why I love baseball.
(Special thanks to Bill Simmons for the format idea…let's call it an homage and not a rip-off, shall we?)
Reason no. 386: Nolan Ryan
With a career punctuated by 324 wins, 5,714 strikeouts, and seven no-hitters, it would be an understatement to characterize Ryan as a legend.  Despite Ryan's obscene longevity, he retired in 1993, just as I began to come of age as a fan.  I never got to see or appreciate him in his prime.  Instead, I listened as announcers spoke his name, their voices tinged with awe.  I watched footage of his sixth and seventh no-no's, and laughed with my friends at the water fountain as we recounted the time he put Robin Ventura in a headlock and pummeled the third baseman about the head and shoulders.
Flash forward almost two decades, and Ryan once again threatens to redefine the pitching landscape of Major League Baseball.  This time he's doing it from the owner's box.  When Ryan took the reigns of the Rangers, he did what we, as fans have demanded for years: he threw out pitch counts.  Flaunting the throwback toughness that defines the legend of Nolan Ryan, he demanded that his pitchers work on their stamina and conditioning and prepare to pitch deep into ballgames.  While the Rangers pitching staff may not shock the world with their 23rd ranked team ERA, it's winning ballgames.  Instead of dishing off the sixth through ninth innings to ineffective middle relievers, Ryan and manager Ron Washington keep the ball in the hands of their pitchers, who have rewarded them by ranking second in the league with five complete games and have kept Texas in games long enough to allow the offense with the second best slugging percentage in the American League to take over.  As of this moment, Texas has the AL West in a Ryan-like headlock.
Reason no. 5: A hot dog and a beer is a nutritious meal
Well, it is, in relation to the philly cheesesteak sandwich on the garlic wedge or the extra-large order of nachos drowned in processed cheese and ground beef.
Reason no. 2,999,999: Mother Nature's machinations
In the bottom of the tenth in Cleveland on Thursday, Shin-Soo Choo hit a frozen rope of a line drive into center field.  Coco Crisp charged the ball as Mark DeRosa rounded third.  Despite the fact that Crisp's arm lives a double life as a wet noodle, the crowd rose in anticipation of a close play at the plate.  It never happened.  DeRosa touched home without a throw,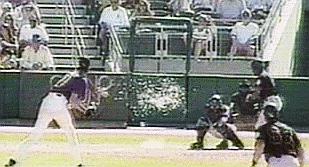 because Choo's liner had bounced a few times off the outfield turf and once off the wing of a seagull hunting midges in centerfield before ricocheting past Crisp.  The seagull was fine.  The Royals, on the other hand, earned their 34th loss on the season.
Between midges attacking Joba Chamberlain, to a bird exploding as it got caught in the crossfire between a Randy Johnson fastball and his catcher's glove, baseball's relationship with nature is unlike that of any other sport.  Birds, squirrels, gnats, moths, and bats have been known to intervene in tense baseball moments.  In regards to baseball's being at one with the natural world, Ralph Waldo Emerson would approve.
Reason no. 25: It plays well on the radio.
Invite a few friends to your house.  Throw some burgers on the grill.  Crack open a beverage of your choice.  Turn on a local radio broadcast of a baseball game.  Thank me later.
Reason no. 2: Magic Numbers
No other sport has numbers that have been ingrained into American culture as a whole.  Number 42 represents one man's courage that extended beyond that of normal people.  Joe DiMaggio's 56-game hit streak represents an accomplishment that may never be seen again.  The same holds true for Cal Ripken's 2,632 consecutive games played.  Discounting the past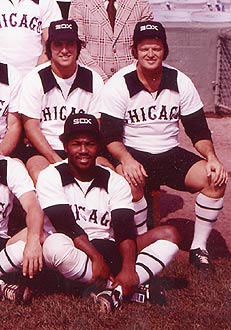 decade, 500 homeruns put a hitter in the Hall of Fame, same with 3,000 hits.  Twenty wins in a season for a pitcher is a benchmark of excellence.  Thirty is a season for the record books.  Randy Johnson just recorded his 300th win.  Congratulate him, we may not see that again.
Reason no. 500,219: The uniforms of the 1976 Chicago White Sox
Shorts!?  Really??  Never before or since has a Major League baseball team looked more like it should have played its games with a full keg propped up behind the pitcher's mound.