Ferguson Jenkins and Jackie Robinson: Canada Celebrates Black History Month
We have just wrapped up Black History Month in Canada, and, interestingly enough, baseball played a major role in at least two of our nation's many celebratory moments. A stamp was issued in honour of Ferguson Jenkins on February 1 and at the end of the month a commemorative plaque was placed on the Montreal duplex which was home to Jackie and Rachel Robinson in 1946, the year he broke professional baseball's colour barrier as a member of the Montreal Royals.
This LETTERS FROM QUEBEC essay takes a look at both these testimonials and the circumstances which surrounded them. Part ONE focuses on Ferguson Jenkins. Part TWO on Jackie Robinson follows shortly
Ferguson Jenkins
On February 1, to signal the start of Black History Month in Canada, the country's postal service, Canada Post, issued a stamp honouring the life and accomplishments of Ferguson Jenkins. Jenkins was one of the game's most dominant pitchers, and is still the only Canadian-born player in the Baseball Hall of Fame.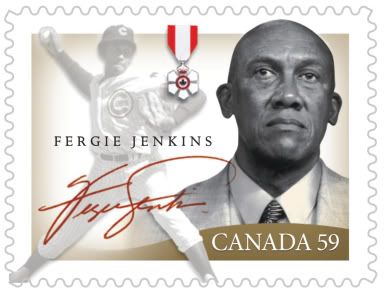 Now 68 years old, "Fergie' was born and raised in Chatham, in southwestern Ontario, west of Toronto and east of Detroit. His father was of West Indian descent while his mother, Delores, traced her ancestry back to escaped slaves who fled the United States to find freedom in Canada. During the 19th century the Chatham area played an important role in the work of the Underground Railroad, both as a place of refuge, and as a staging ground for abolitionist activity. Much of the planning for John Brown's raid on Harper's Ferry occurred in Chatham, and many of his men were recruited there. Today the Chatham region is on the map as part of the African-Canadian Heritage Tour. (For more information see: http://www.uncletomscabin.org/heritage.htm/)
Ferguson Jenkins was an all-sports athlete growing up who excelled at both baseball and basketball. He soon caught the eye of Gene Dziadura, a Chatham native and former minor-league shortstop, and then a scout for the Philadelphia Phillies. Dziadura was impressed with Jenkins and took to mentoring him, teaching him the finer points of the game. When Jenkins turned 18 in 1962, Dziadura signed him to a Phillies contract. Dziadura would remain an important figure in Fergie's life, as well as a friend to baseball in Canada, right up until he passed away in November, 2010.
After working his way through the minor leagues, Jenkins joined the Phillies in 1965. Unfamiliar with extreme racism, he had found the unyielding Jim Crow regimen which surrounded his first spring training camp in Clearwater, Florida, unlike anything he had experienced growing up and difficult to fathom. And then he put in three years playing in Little Rock, Arkansas, infamous in the history of the Civil Rights Movement. In those days, according to baseball writer Tom Hawthorne, it was not uncommon for black players to be accosted with signs bearing inscriptions such as "Don't Negro-ize baseball" or other epithets more foul.  According to Hawthorn, Jenkins remembers times at the airport where there were banners that said, "We don't want black players," except, of course, they did not use the word 'black'. "The pressure," Jenkins told Hawthorne, "was not on the field, it was off the field." But survive the ordeal he did, and once he made it to the big leagues, he remained there for 19 years.
While Fergie started out with the Phillies, and although he did have turns with Texas and the Red Sox, most of his career was spent with the Chicago Cubs. The Cubs acquired him, along with Adolfo Phillips and John Herrnstein in exchange for pitchers Larry Jackson and Bob Buhl. As it turned out both Buhl and Jackson were gone from the major leagues three years later, just as Jenkins was coming into his own. Long-time Phillies fans are still be grumbling about this one…
When Fergie retired from the game in 1983 he left behind an enviable record – 284 wins, 226 losses, 49 shutouts, and a career ERA of 3.34. He won 20 or more games seven times, including six seasons in a row, he was a CY Young Award winner – and by the time he faced his last batter he had hurled a total of 4500.2 innings. He is the only pitcher in the big leagues with more than 3,000 career strikeouts and fewer than 1,000 walks.
And how well was he compensated for this Hall of Fame performance? Well, his highest salary was the $300,000 that the Cubs paid him in 1982, when he was 39. Considered generous at the time, by today's standards this amount was a mere pittance. To place it in perspective, Fergie's richest payday represents less than 1% of the $33 million A-Rod earned in 2010.
Following his career in baseball, Fergie was the recipient of numerous honours. He was inducted into the Canadian Baseball Hall of Fame in 1987. In 2000, he established the charitable Fergie Jenkins Foundation dedicated to several causes, including assistance to the blind and cancer research. Four years later he received an honourary doctorate from McMaster University in Hamilton, Ontario, and in 2007 he was invested into the Order of Canada.
To complement the launching of his eponymous stamp, Fergie undertook to spend most of February touring the country and speaking, not about his career, but rather about Black History Month and its relevance to Canadian society. With stops at 23 different locations in nine provinces, 41 appearances in all, one commentator suggested that it would be simpler to list the places he didn't visit than those he did. This was, wrote Hawthorn, "a month-long, cross-Canada …odyssey that was surely the longest road trip of [Fergie's] career."
But Fergie took it all in stride. In speaking with Randy Phillips of the Montreal Gazette he said, "I'm really in of awe what the country of Canada has done for me. Putting me on a stamp and celebrating it through Black History Month is quite the honour." Then he couldn't help but quip, "In the U.S., you have to be dead before you're put on a stamp. I tell people I'm very much alive."
For information about the Ferguson Jenkins stamp, you can call 1 800 565 4362 or write to National Philatelic Centre, 75 Ninian St., Antigonish NS B2G 2R8 CANADA