Canadian Black History Month Part Two: Jackie Robinson
We have just wrapped up Black History Month in Canada, and, interestingly enough, baseball played a major role in at least two of our nation's many celebratory moments. A stamp was issued in honour of Ferguson Jenkins on February 1 and at the end of the month a commemorative plaque was placed on the Montreal duplex which had been home to Jackie and Rachel Robinson in 1946, the year he broke professional baseball's colour barrier as a member of the Montreal Royals.
This LETTERS FROM QUEBEC essay takes a look at both these testimonials and the circumstances which surrounded them. Part TWO focuses on Jackie Robinson. Part ONE, centered on Ferguson Jenkins, was presented a few days ago.
Jackie Robinson
On February 28, on a quiet tree-lined residential street in a Montreal neighbourhood buried under the snow and slush of winter, up on the crowded balcony of the lower duplex in which Jackie Robinson and his wife Rachel lived when he played for the International League Montreal Royals in 1946, the year he shattered baseball's colour barrier, the United States Consul  General in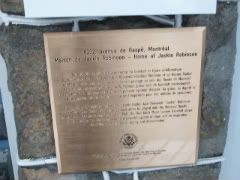 Montreal, Lee McClenny,unveiled a commemorative plaque acknowledging  Jackie Robinson's status as a "baseball legend and civil rights leader." Also present  were David Jacobson, U.S. Ambassador to Canada; the mayor of Montreal, Gerald  Tremblay; the Quebec Minister of Education; other dignitaries – and Sharon Robinson,  Jackie and Rachel's daughter. It was a touching moment.
The plaque was a gift of the U.S. Consulate General in Montreal. It is inscribed, in both  English and French, with the following words:
8232 avenue de Gaspé, Montréal – Home of Jackie Robinson
Hall of Fame baseball legend and civil rights leader Jack Roosevelt "Jackie" Robinson and wife, Rachel, lived in this house when he played with the Montreal Royals in the Class AAA International League in 1946. The first black Major League Baseball player in the modern era, Robinson became a powerful symbol of hope and an inspiration to millions with his grace, dignity and determination.
One is sometimes surprised that the early chapters of Jackie Robinson's breakthrough story as pioneer of baseball integration in 1946 are not better known, either in Montreal or throughout America. For it was on April 18, 1946, sixty-five years ago next month, in Jersey City's Roosevelt Stadium and against the home team Giants, that Jackie Robinson did what no African–American had accomplished since the earliest days of professional baseball – he took part in a regular season game. As a member of the International League Montreal Royals he became the first non-white player to break through baseball's colour barrier, shattering it once and for all – and he did so in the face of insults, threats, abuse, and denigration that today seems impossible to comprehend.
Jackie Robinson was the pacesetter. All others who followed, from the Newcombes and Campanellas to the Jenkins and Gibsons and on through the polyglot, multinational universe that characterizes the modern game, did so in his shadow. Arguably, his was the first great civil rights manifestation of the post-World War II era.
And it all began in Montreal, where Jackie and his wife Rachel were joyfully embraced by the city, his teammates and the community in which they lived. We were reminded of this by U.S Ambassador Jacobson, who, speaking from the steps of the Robinson's 1946 home, as snowflakes bounced off his vintage Montreal Royals cap, offered thanks to the citizens of Montreal on behalf of the American people.
He spoke of "something very special which was done by the people of Montreal," adding that "what the people of Montreal did and what they showed to Americans [came] at a time when we probably weren't as tolerant as we ought to have been…The people of this house and the people in this neighborhood and the people of Montreal were much better."
And, as it turned out, that made all the difference in the world.
In the photo of the Robinson's lower duplex at 8232 de Gaspé Avenue, one can gain a good sense of their dwelling and how it was closely connected to others on the street. At the podium is U.S. Consul General in Montreal, Lee McClenny, who presided over the unveiling of the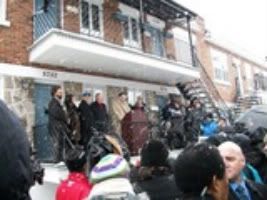 commemorative plaque placed on Jackie Robinson's 1946 Montreal residence, Sharon Robinson is on his immediate left; U.S, Ambassador to Canada David Jacobson is wearing the blue Montreal Royals cap; and the Mayor of Montreal, Gerald Tremblay is to his left, in the red scarf.
Just to backtrack a bit, Jackie was signed to a Montreal Royal's contact in the fall of 1945, the first step in what Brooklyn Dodgers general manager Branch Rickey sometimes referred to as a noble experiment – integration of the major leagues. The following February Jackie and Rachel were wed in California, and just days later they set out for Florida and spring training with the Royals. They soon discovered that life in the Sunshine State away from the playing fields was ugly and difficult, and much as with Ferguson Jenkins some 15 years later, it shook them to the very core.
In a letter which the now 88-year old Rachel Robinson sent to Ambassador Jacobsen expressing regret that she could not attend the plaque unveiling, and which was read aloud by Consul General McClenny, she was very clear on that point. "Before Jack and I moved to Montreal," she wrote, "we had been through some very rough treatment in the racially biased South…We were shaken from that experience and didn't know what to expect in Montreal." Implicit here was the notion that had their reception north of the border been as difficult as what they endured in Florida, the couple might well have turned their backs – on the city, on baseball, and on Branch Rickey's desire to change the face of baseball forever.
But instead, as Mrs. Robinson wrote, "Montreal was the perfect place for [Jack] to get his start. We never had a threatening or unpleasant experience there. The people were so welcoming and saw Jack as a player and as a man."
Sharon Robinson, who was present at the unveiling, reiterated her mother's sentiments: "My mother and father had such positive memories about their time in Montreal," she said. And as for the home on avenue de Gaspé, Sharon added that, to her parents, it emerged as "a place they could come home to after being on the road in the south where there was so much hatred  expressed …and have the love and respect of a community. This was very important to them."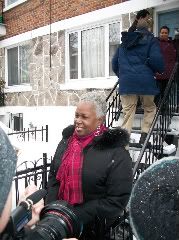 In her letter to Ambassador Jacobson, Rachel Robinson wrote at length about the significance  of their Montreal home:
I'm so pleased to hear that our old house is in good condition and being recognized today. We  didn't know how we would be treated renting a house in a white neighborhood. A black family l  looking to rent in a white neighborhood in many parts of the world at that time would have been  rejected. But on de Gaspé Avenue, we experienced nothing but kindness. The woman who  owned the duplex we rented brought me inside the first day we met her, poured me tea, and  insisted that when we lived there, she wanted us to use her things – her own linens and china. No  one there spoke English, and we didn't speak any French. But they still treated us with respect.  When it became noticeable that summer that I was pregnant with our first child, the neighbors  all started watching out for me, coming by to ask me how I was doing and bringing ration coupons. That's the kind of experience we had in Montreal. (Note: the photo below is of Sharon Robinson, Jackie and Rachel's daughter. She is standing on the same steps and almost in the same spot where her parents once posed for an iconic portrait taken shortly after they arrived in Montreal as newly-weds.)
The story is told that one day during the summer a neighbour driving by saw Jackie walking on the street and stopped to give him a lift. He vaguely recognized Jackie as someone who lived nearby, but other than that had no idea who he was. When Jackie said he was headed to the ball park, the neighbour replied that he was only going part way but could drive at least him that far. Years later the neighbour, in recounting the story, said that had he realized just how famous his passenger was – he would have driven him all the way to the stadium!
Jackie had a glorious season in 1946. Right from opening day in Jersey City, before an overflow crowd, he established his presence as a player and as a teammate. In his second at bat, he hit his first home run – and folks wondered how his fellow players would react when he crossed home plate. Would they greet him as they would any other player, or would they shun him because of his colour? Waiting at the on-deck circle was the next batter, 21-year George "Shotgun" Shuba. As Jackie rounded third and made for home, Shuba stepped forward to greet him, hand extended. And that was all it took. With what some have called the "first interracial handshake in professional baseball" Shuba sent out a clear message: Robinson was a member of the team.
In a way, the graciousness of Shuba's gesture was reflected in words Ambassador Jacobson spoke 65 years later on that small balcony on de Gaspé Avenue. "The reason that Jackie Robinson had such a special place in the hearts of everyone is not just because of what it did for the game but what it did for all of us."
By the end of 1946 Robinson had put together a most enviable record. He was named the International League's Most Valuable Player and was league leader in both hitting and fielding. But it was in the post-season that he truly showed his mettle. The Royals won the pennant with a record of 100-54. They marched through both Newark and Syracuse on their way to the Governor's Cup, and then met up with the American Association Louisville (Kentucky) Colonels in the Junior World Series. The first three games were played in Louisville.
Jackie Robinson frequently called the racist taunts directed his way by the Louisville crowds among the worst he ever experienced, and his play there suffered accordingly. When the Royals returned home they were behind 2-1 in the best-of-seven series.
However, back in Montreal, with Jackie now playing before a friendly crowd, it was a different story. Inspired by Robinson's clutch play, the Royals took command and captured the series in three straight games, earning the right to be known as the best team in baseball outside the major leagues.
Montreal Gazette columnist Dink Carroll had this to say about the pandemonium which followed the final game. Describing the deliriously happy mob of 19,171 paying customers who hung around after the game and kept calling for players to come back onto the field, he made note of the moment "Jackie Robinson finally appeared in street clothes. And [the fans] stormed around him eager to touch him, almost ripping the clothes from his back." They bellowed "Il a Gagné ses Épaulettes" a traditional French hymn of praise sung in honour of those who had, as we might say in English, earned their wings.
Out of this moment of unleashed joy has emerged one of baseball's most familiar and endearing bits of prose. Journalist Sam Maltin who had come to know the Robinsons described the post-game scene as follows: "It was probably the only day in history that a black man ran from a white mob with love, instead of lynching on its mind."
Jackie went on to the Brooklyn Dodgers in 1947. There he excelled, was named Rookie of the Year – and the rest is history.
But it is worth remembering that the foundations of Robinson's irreversible pathway to baseball's new frontier lay in the success of his Montreal experience. As one television reporter observed, "Montreal's impact on the game will last forever as a stage where African–Americans could shine, ensuring America's pastime would no longer be limited by colour."
Or as Mayor Tremblay of Montreal would ask, and then answer himself: "Why are we so proud today? Because it was here, in Montreal, that we wrote history."