The Day the 1994 Expos Came Back to Town
What do you get when you put Felipe Alou, Cliff Floyd, Marquis Grissom and Rondell White; Denis Boucher, Mel Rojas and John Wetteland; Pedro Martinez …and loveable former Expos mascot Youppi, in the same room, all at the same time?
A class reunion of the 1994 Montreal Expos, that's what; with the operative word being CLASS.
And, for good measure, to this largest '94 Expos homecoming ever, add former Expos' general partner Claude Brochu to the mix, along with former limited partner Mark Routtenberg; once general manager Kevin Malone; long-time trainer, Ron McClain; irrepressible Expos' broadcaster Rodger Brulotte and local rapper Annikin Slayd, whose passionate video tribute to the Expos went viral on YouTube when it first came out.
They were all in Montreal to participate in the seventh annual Cummings Jewish Centre Sports Celebrity Breakfast, held last Sunday (March 27, 2011), in Montreal as a fund-raiser for the Foundation's Seniors in Crisis programmes.
With upwards of 700 attendees of all ages, including the elite of Montreal's sporting world, the sold-out event raised more than $175,000 for impoverished golden-agers, and that was before proceeds from the raffle and silent (and not so silent) auctions were added in! Demand for tickets was so great that the event sold out even before it had been formally advertized.
To the fans present – and we were all fans that day – it was the epitome of reunion tours, rife with original stars and smash hits, the kind of event where nobody wanted to leave – including the celebrities.
The guest of honour was Mark Routtenberg, a prominent businessman active in the Montreal Jewish community whose love for the Expos runs deep and pure. He described his role on the club's ownership group as that of friend first, then a fan, and only lastly an owner. Over the years,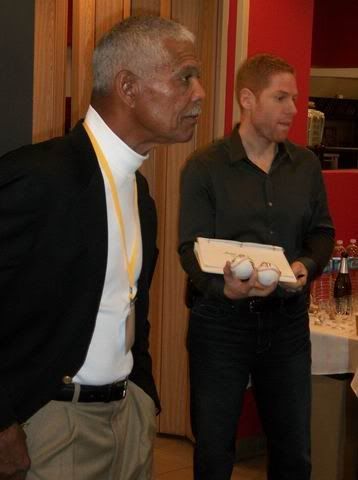 he had developed close relationships with many members of the club, and this was their day to reciprocate.
Each player received a standing ovation when introduced, with the biggest cheers reserved for Pedro and then, loudest and longest, for Felipe.
Team members all had an opportunity to say a few words, and all shared the same theme – that there was something almost mythical about the 1994 Expos. "What a powerful group of players you guys were" Mark Routtenberg recalled. "You knew you were the best; you expected to win every game."
The club arrived at 1994 having survived a precipitous decline in 1991 and then establishing itself as a contender by 1993. Now, it seemed, a possible rendezvous with greatness had already been penciled in and was waiting on the horizon. "This team came together," said Routtenberg, "as a result of great trades and smart drafting."
And their leader, their mentor, their guru was Felipe Alou. The turnaround had started after he became the manager in 1992. As one presenter stated, "Felipe was our man. He was the symbol of everything that was good about the Expos."
John Wetteland believes no one understands the game of baseball better that Felipe. He told a story of the time when Pedro was still learning to pitch inside and had hit a number of batters, with the result that a few took a run at him. "Baseball is a game of retaliation," Wetteland said, "and there came a moment when Felipe had seen enough. He wandered over to me in the dugout and said, (and here Wetteland offered a perfect Felipe Alou imitation] 'You know what to do big guy.'" It brought down the house.
Listening to these once-Expos talk about their experiences stirred feelings that were both mystical and magical, more so because as each spoke you realized that in addition to being part a great team, they were a closely-knit, great group of men.
As general-manager Kevin Malone noted, "I have been around a lot of teams, but not only on the field, these guys were a special group." Felipe simply called them, "the best team I ever managed no question about it."
Pedro always believed that 1994 was the year of the Expos. "I was convinced that we could beat any team; 100 per cent. We were going to win it all! Felipe had confirmed it!"
And that was what John Wetteland felt as well. "When I was traded to the Yankees in 1995 and got to spring training" he said, "I was often asked 'Do you think your guys could have beaten the Yankees?' My answer always began with the same words, 'with all due respect…'"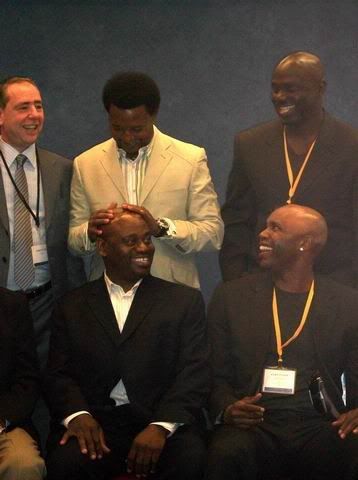 Unfortunately, they never got the chance to find out.
On August 12, 1994 the 74-40 Expos had the best record in all of baseball. They were the hottest club in the game, unstoppable, and destined for a trip to the World Series – a foreign land they had never visited in the 25-year history of the club.
And then the Major League Baseball Players Association went on strike.  Shortly afterward, with no prospect of settlement in sight, baseball's acting-commissioner Bus Selig cancelled both the season and the post-season. For the first time since 1905 there would be no World Series
With that same stroke of his pen, Selig might just as well have written fini to the future and fortunes of the Expos. Their moment of glory had been stripped away; they would never be the same again.
Above: A guest watches as Pedro Martinez polishes up Marquis Grissom while Rondell White (standing) and Cliff chuckle.
The Expos havebeen gone from this city for seven years, but still the faithful remember. And most of all, they remember 1994 and the year that might have been. So do those who lived it.
"What would have happened," Mark Routtenberg speculated aloud, sharing a thought that every Expos fan has pondered at some point or other, "if the 1994 season had been completed; if the downtown stadium had been built; if the value of the Canadian dollar had not bottomed out when it did; and if Major League Baseball's current revenue-sharing programme had been in place back then? We can only guess – but it is useful to bear in mind that Montreal is the largest city in North America not to have a major league baseball team."
Might Montreal ever see major league baseball return to the city? If the hugely successful reunion of the 1994 Expos at the Cummings Centre celebrity Breakfast is any indication, the fans – and the players – are ready, willing and waiting. Cliff Floyd was not the only one to offer, "If you ever get a team back here, put me on it. I'm here!"
The last word of the morning was left to Larry Fredericks, a man cut from the same cloth as the legendary Harry Caray and a legend in local radio and newspaper circles. He led a rousing rendition of "Take Me Out to the Ball Game" and then concluded with these words.
"If Quebec City gets the Nordiques back… we get the Expos."
Sounds good to me.
You can find the Annikin Slayd Expos' tribute video on YouTube at http://www.youtube.com/watch?v=bFX92ALqxlk/
Bill Young is co-author, with Danny Gallagher, of the best-selling book, "Remembering the Montreal Expos." You can reach him at williamyoung@videotron.ca/