Lincecum Helped Shape, Reaffirm Tribe's Draft Process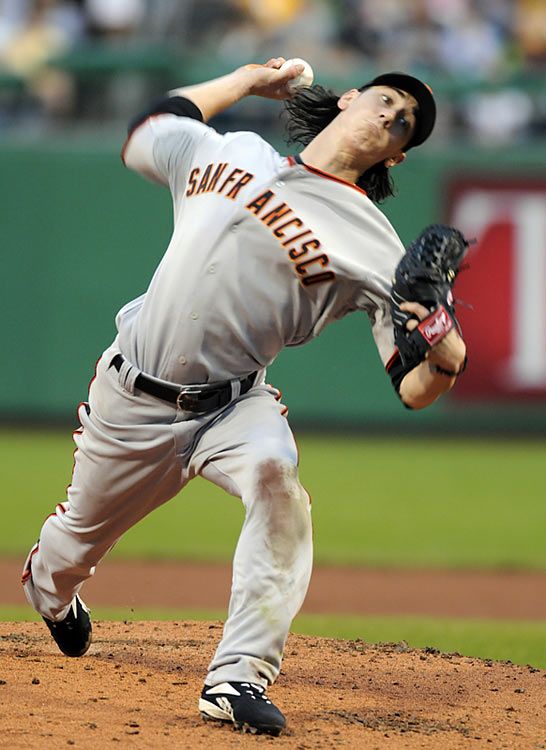 Lincecum almost became an Indian in the
summer of 2005 (Photo: AP).
Imagine for a moment a Cleveland Indians rotation headlined by CC Sabathia, Cliff Lee, and Tim Lincecum. That is a rotation that would go down as one for the ages and match up with the all-time great ones of the past.
Such a rotation for the Indians was actually possible five years ago.
Back in 2005, the Indians were contending again with a young nucleus led by two young left-handed hurlers headlining the rotation in Sabathia and Lee. Both pitchers were far from their true Cy Young form they would find later on in their careers, but both were still very good and in the upper percentile of pitchers in the league.
Later that year over the summer the Indians drafted Lincecum in the 42nd round of the June Draft, which meant that all three pitchers – arguably three of the top five pitchers in the game today – were under the Indians' control for a short time in the summer of 2005.
Of course when you flash forward to 2010, baseball's lack of parity when it comes to money doomed what could have been for the Indians. Instead of a rotation to build around for a decade, both Sabathia and Lee have since been sent away because of the belief that they inevitability could not be re-signed. As for Lincecum, he turned down the Indians offer to sign and went back to school.
But the story behind why Lincecum was not signed, at least from the Indians' perspective, has never really been shared. Until now.
Going back five years to the negotiations between the Indians and Lincecum, it was really something of a first that baseball had experienced with regard to the draft. That is, a player taken in the very late rounds with extremely high bonus demands getting sincere interest from a Major League team wanting to sign him.
When you get to the late rounds of the draft teams are usually drafting for need by picking up signable players to "fill" gaps in the organization in the lower levels of their farm system. The rest of the late round picks are typically spent taking some fliers on high profile players deemed unsignable.
The reason teams do this is to build a rapport with the player and get to know them better inside and out for possible selection whenever they are eligible to be selected again. One thing you never see in the late rounds is any player signed to a seven-figure deal, much less any six-figure deals which are very rare themselves.
But a funny thing happened in the summer of 2005 as the Indians got to know Lincecum. According to a report in Baseball America, Lincecum let it be known that he was willing to cut his $2 million bonus demand in half, and as the summer draft-and-follow process ran its course both sides appeared wanting to get a deal done. What was once deemed an impossibility with signing such a late-round pick turned into a distinct reality that it was actually possible.
Lincecum had a so-so sophomore year at the University of Washington in 2005 where in 16 starts he went 8-6 with a 3.11 ERA, but while he only allowed 62 hits and had 131 strikeouts in 104 innings pitched he also walked 72 batters. After what was considered a sub par sophomore year at Washington due to a lack of control, when draft day came he received very little interest from teams because of his high bonus demands, small frame and unorthodox delivery.
Once you get to the 20th round it really becomes what organization's call "the scout's draft." What this means is teams rely exclusively on the recommendations and information that their scouts provide because they were the ones who saw the players several times over the course of the scouting season.
Indians west coast cross-checker Paul Cogan had a good feeling about Lincecum, and he recommended the organization take a flier on him in the late rounds. He had scouted and signed CC Sabathia and other guys in the past, and he really liked Lincecum even though there was no consensus in the scouting industry of what kind of pitcher he would be. Most organizations had written him off for the 2005 Draft to see how he would fare his junior season in order to get a better read on him and consider him for selection in the 2006 Draft.
But Cogan saw an opportunity to get a big talent now, and recommended to Indians Scouting Director John Mirabelli and the rest of the front office staff that they pick him with the intent to aggressively try and sign him. And that's what the Indians did.
After drafting him the Indians followed Lincecum over the course of the summer to get to know him better, and the more they saw of him, the more they liked him.
"Lincecum went to [the Cape Cod League] and Cogan went there to scout him and got to know him," recalled Mirabelli in a recent interview for the Indians Prospect Insider. "He found out how good he was, what a great athlete he was, talked to him about his delivery and where it originated, and really got to know him. When he got hit in the head by a line drive and went to the hospital, Paul went to the hospital with him. Like a lot of kids he went up there and pitched against wood bats and learned to trust his stuff. That's when he took off. We happened to have him under control as a summer follow. We got to know his makeup, athleticism, his drive, and if you look at how many people looked at all the negatives with how small he was, his very unorthodox, unconventional delivery, we actually saw a lot of positives."
But it was a signing that the industry was against.
In order to sign Lincecum the Indians would ultimately have to give him a $1 million bonus, something which would have been very damaging to the entire structure of the draft bonus process which Major League Baseball carefully monitors. So, not only did the Indians have the money aspect working against them with Lincecum's very high bonus demands, they also had to contend with the league office's stern request that they not even try and sign him.
"We were aggressively going to sign the player," Mirabelli said. "I talked to him on the phone as I was coming up to meet with him. Before we even got to the money, I remember distinctly telling him that we were going to take him right to Kinston so he can get to Double-A the next year. We really liked the kid. This was back before out-of-slot guys did not have to wait [to be announced] until August as you could sign them whenever you got approval. We still had the out of slot number, so we had to go through Frank Coonelly who was running the program. We had already gone out of slot on Nick Weglarz that year so we got yelled at for that."
At the time, Frank Coonelly was the MLB Senior Vice President of the Commissioner's Office and was the man in charge of overseeing everything money-related in baseball with arbitration hearings and draft bonuses. When he got word that the Indians were about to make an aggressive offer to try and sign Lincecum he was not very happy.
"I called Coonelly and said I was interested in signing this Lincecum kid from the 42nd round for $500-700K and he wasn't very happy about it at all because he felt it was harmful to the industry," Mirabelli said. "Back in those days you had to call with the offer before you would even get the green light and he wouldn't give me the green light. He said 'what are you doing? This is a major mistake and you are not going to do this'. He didn't even know who Lincecum was, and he strongly urged we not sign him."
It is a signing that actually would have dramatically changed the draft landscape. Coonelly was trying to protect the draft bonus process, but Mirabelli was simply trying to aggressively sign a player the Indians valued greatly. Coonelly even went so far as to call Indians ownership to try and get them to get Mirabelli and his staff to back down from making an offer, but ownership showed a strong commitment to their scouting evaluations and fully supported the decision to try and sign Lincecum.
"We figured we had one shot as we were not going to go back and forth and have to call Frank again," said Mirabelli. "We offered Lincecum $700K, a ridiculously, aggressive offer which a lot of people thought we were nuts for doing. He was a very strong-willed, determined kid and was set on a million dollars. It wasn't about school as if he got the million he was going to sign. We made our best shot to a 42nd rounder, a 5'10" righty that did not yet have any kind of consensus on him within the scouting industry, and we did not get him."
The Indians offered Lincecum the $700K signing bonus, a number $300K short of his $1 million demand, and in the end he passed on signing and went back to school for his junior season. His decision to go back paid off in a big way as he ended up being a first-round pick in 2006 – 10th overall – and when he signed with the San Francisco Giants he ended up getting the $2 million bonus he originally wanted.
"We thought $500K was a tremendous offer and $700K was our limit," Mirabelli said. "We were giving him more than our third or second rounder that year. It would have been a record-setting and precedent-setting bonus for sure."
It was a gamble that almost paid off for the Indians, one that was met with strong resistance from the commissioner's office.
"We received push back from the commissioner's office as they really did not want us to sign him," Mirabelli said. "It is easier to say why not give him the other $300K, but I have to look at the bigger picture and that was our process worked. Eventually we are going to hit on one of these guys. If you stick to the process that's all you can control, and if we keep doing that and making good decisions we are going to get rewarded."
Hindsight is always 50-50, so of course it looks bad that the Indians did not sign Lincecum. But that's true for a lot of guys taken as fliers in the late rounds who wound up going back to school and being selected by another team a year or two later and then went on to have a lot of big league success. Don't forget too that all other 29 organizations passed on drafting him not once, but 41 times.
"There is no gray area in scouting," Mirabelli said. "You either hit or you miss. Sometimes you can't control the decisions a kid makes, but the process that we had was really indicative of our scouts getting to know the player. We got to know him and we saw him a year later signing for $2.5 million, winning a Cy Young, and now winning a World Series. Our process worked. Sure we did not get the player, but we made a very legit, serious and committed offer. We commend him as he made a great decision and proved everybody wrong."
It's no secret that the Indians had a lot of issues with the draft prior to 2005, but the process they went through with Lincecum that year shows how their scouting efforts began to evolve into what has now become one of the strongest areas of the organization.
There are no moral victories in scouting. But while the Indians may have lost out on the talented Lincecum, they held firm to their value of the player and what they gained from the process has already helped in their most recent drafts and will continue to help well into the future.