A Whole New Level of Losing
After watching the Cubs crumble under 100 years of history, the author feels there should be an addendum to Bill Simmons' "Levels of Losing." 
In 2002, Mike Tyson fought then-champion Lennox Lewis for the heavyweight title.  Lewis dominated the fight, beating up a sluggish and emotionally spent Tyson.  In the eighth round, Lewis knocked Tyson out, mercifully ending the fight.  When asked what was next for the former champion and headliner of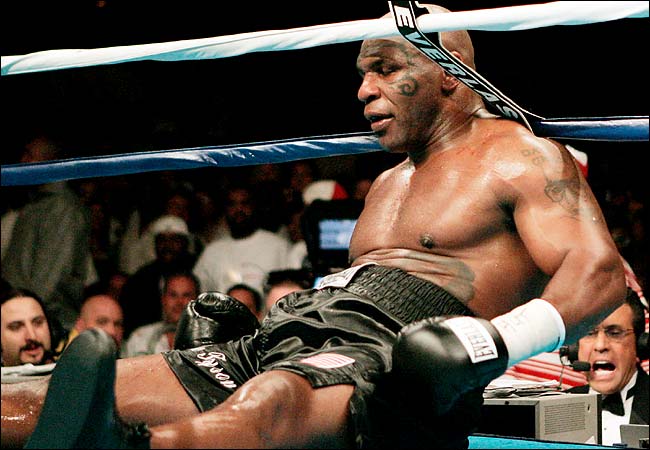 Mike Tyson's Punch Out, Tyson replied, "I don't know…I guess I'm gonna fade into Bolivian."
As odd as it might seem, Tyson's loss parallels that of the 2008 Chicago Cubs.  After May 11, the Cubs spent twenty straight weeks atop the National League Central.  They solidified that position in late July, going into Milwaukee, sweeping the second-place Brewers, and putting five games between them.  To see this team that dominated baseball for much of the season go gently into that good night was striking.
In the three games played in the NLDS between the Cubs and the Dodgers, Chicago, whose offense ranked first in the National League in runs scored, plated only six runs in three games.  Their pitching, which ranked third in ERA, allowed twelve earned runs, which also means that their defense provided eight more unearned runs.  On every level of the game, the Cubs faltered giving the Dodgers opportunities that Joe Torre's teams seem to always take advantage of in the postseason.
Last year, when the Mets collapsed down the stretch, columnist Bill Simmons reexamined his Levels of Losing.  However, the 2008 Chicago Cubs don't fit neatly into any one of these categories.  Instead, I propose that we institute a new level of losing: Fading into Bolivian.  At this level, the victim never really rallies, never truly puts up a fight, and by the time the last round or elimination game of a series rolls around, they simply bide their time until that last out is recorded or that last second ticks away.  While the loser may not be overmatched, as was the case with Tyson-Lewis, they simply never get the big play that can turn a series or match on its head.  Eventually, the loser goes quietly, awaiting a turning point that never comes.
A perfect example of the Fade into Bolivian loss came in the first season of the Ultimate Fighter, when Chris Leben fought Josh Koscheck.  The fight had all the trappings of a classic match: Leben possessed knockout power, Koscheck was an all-American wrestler.  On top of their physical abilities, the two hated one another.  Ultimately, the fight unfolded uneventfully.  For ten minutes, Leben would swing and Koscheck would take him down.  Koscheck had only been training in MMA for a short time, so when he got to the ground, all he did was maintain dominant position.  He lay on top of Leben until the horn sounded, ending the fight.  Because he had scored points for take downs and maintaining position, Koscheck won the fight.  All Leben could do was lie there as his time as an Ultimate Fighter ticked away.  One big punch could have turned that fight around.  Unfortunately for Leben, he never got the chance.
With the Cubs, there was just too much history to overcome.  Since Fukodome drove a game-tying three-run homer off of Eric Gagne on opening day, the expectations of Cubs fans have been astronomical.  For a fan base that had dealt with so many years of disappointment and hardship, this hundredth year of Cub futility seemed to be the one to break the curse.  Fans placed all their faith behind the likes of Soriano, Zambrano, Wood, and Lee.  These were the players that would finally deliver Chicago to the Promised Land.  Put yourself in their shoes.  Every time Derek Lee went to the supermarket to buy a box of Nut n' Honey, a fan would slap him on the back, and tell him to bring home a championship.  Cubs fans saw
this team as the one that would deliver them from the darkness.  That's a lot of pressure to put on one group of players.
For a franchise like Chicago, that first game contained all the gravity of a dwarf star.  They came out and took a two-run lead.  Wrigley went nuts.  However, a four-run Dodger fifth courtesy of James Loney's grand slam took all the air out of Chicago.  Cries of "this is our year" were replaced with "Oh no, not again."  The Cubs started pressing.  They couldn't turn game one around and tightened up for game two.  By then, the series had transformed into a Sisyphian labor.  For an entire season, the Cubs had rolled that boulder up the hill.  On Thursday night, the Chicago faithful could see no way of pushing that boulder one more inch.  It's no wonder that every infielder made an error in that game.  It's difficult to execute solid fundamentals when a two ton gorilla has made his home on your back.
Towards the end of Rounders, when Matt Damon's Mike McD wins a big hand off of John Malkovich's Teddy KGB, he accurately describes the Fade into Bolivian loss.  "In a head's up match, the size of your stack is as important as the quality of your cards.  I chopped one of [Teddy's] legs out in the first hand.  Now, all I have to do is lean on him until he falls over."  Loney's grand slam devastated Chicago's chip count.  With it, all the curses, bad voodoo, and "Cubs occurrences" became self fulfilling prophecies.  All
the Dodgers had to do was lean on the Cubs—until they fell over.
Baseball is a sport that's exceptionally cruel to loyal fan bases.  Between the first of April and the last of September, Cubs fans woke up every day with hope renewed.  They showered, shaved, ate, and watched the Cubs.  Some of them went to work too.  This happened every day—for 162 games.  Then, between a Wednesday and a Saturday, it was all over.  Chicagoans woke up Sunday morning, and found that baseball had ended.  For six months, they lived with their team, watched every at bat, admired every success, and brushed off the occasional failure.  Then, in the space of 96 hours, everything ground to a halt.  Their team had faded into Bolivian.