Herrmann Hoping For Big League Chance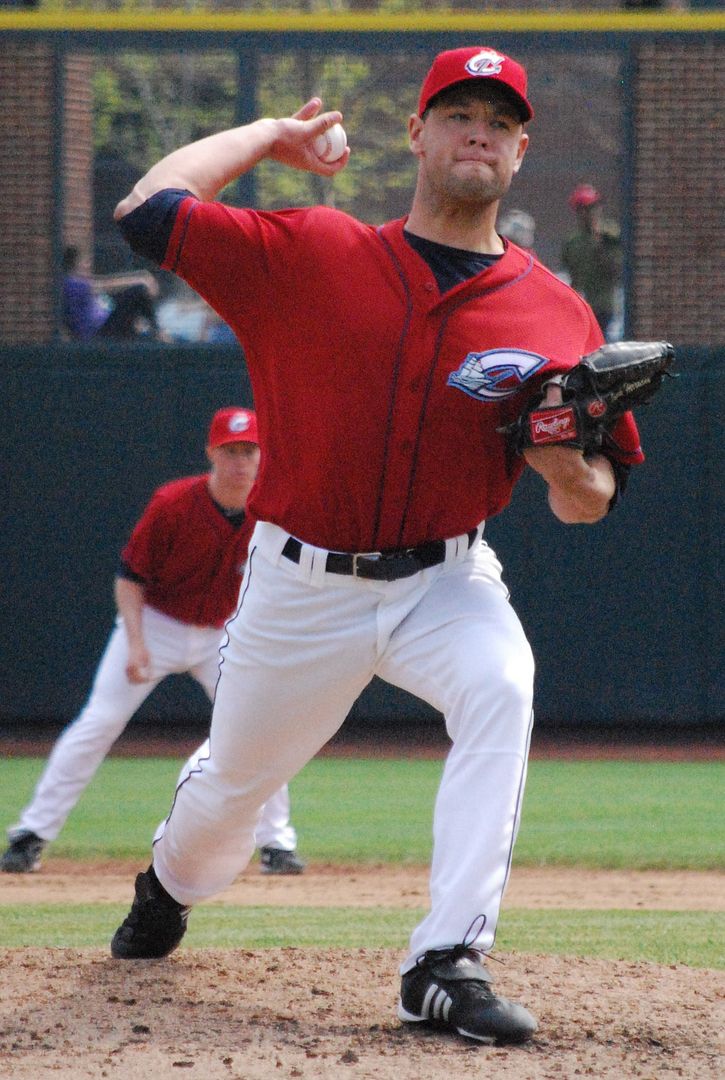 Right-handed reliever Frank Herrmann has done what so few in professional baseball do, which is to go from being an undrafted free agent signing to becoming a legitimate big league pitching option.
Herrmann, who turns 26 years old later this month, was signed by the Indians after the 2005 Draft when after all 50 rounds no one had signed him.  He was on their radar, but because he pitched at Harvard University – a school much more notorious for academics than athletics – teams passed on him.  But the Indians used their good rapport between their scouting department and several Ivy League schools to find Herrmann who had slipped between the cracks.
As an undrafted free agent signing, Herrmann was initially viewed more as an organizational player, which is a depth option where like most other undrafted pickups or cheap late round draft signings he would plug gaps in the system where needed for the next few seasons.
But upon coming into the organization and exposing himself to the Indians for the first time, the Indians found out they had something more than just organizational filler and that they had a potential gem in the making.  Four years later after a 30-23 record and 3.81 ERA in 127 appearances at four levels in the organization from 2006-2009, coming into this season Herrmann is on the major league doorstep and hopeful for a big league chance.
"That's what Mark Shapiro told me [this spring] is that I am not at [big league spring training] because I graduated through the system; they think I am legitimate bullpen depth for them," said Herrmann in a recent interview at Huntington Park in Columbus.  "So it was nice to hear and hopefully that is the case and I can go up there this year.  It has been fun, but I am not where I want to be yet by any means."
So far this season Herrmann is building a great case to be added to the Indians bullpen at some point this year.  In nine appearances for Triple-A Columbus he is 1-0 with a 0.75 ERA, and in 12.0 innings has allowed 7 hits, 5 walks, and has 8 strikeouts.  He has not surrendered a home run and International League hitters are only batting .171 off of him almost four weeks into the season.
Based on Herrmann's performance to date it appears he is really beginning to settle into his bullpen role, one which was new to him last year.  Around this time last season the Indians made the mid-season switch by converting him from a starter to a reliever.  They felt his power sinking fastball which comes in at 91-94 MPH along with his size (6'4, 220 LBS), durability, strength, athleticism and consistency would be a good fit in the bullpen role.
Herrmann has power stuff in his arsenal as he also throws a power slider, changeup and a split-finger which was added to his repertoire last year.  He doesn't pile up the strikeouts by any means, but instead pitches more to contact and gets hitters to roll over on balls for a lot of groundball outs.  He is continuing to work on developing his split-finger, a pitch which could be what makes or breaks his chances to make the big leagues as it would give him a true strikeout pitch.
Though Herrmann fared well in the role last year at Columbus (2.96 ERA, 44 games), he never really got completely comfortable until now.
"I am just continuing to do what I am doing," said Herrmann.  "I think last year was about getting used to the bullpen and see how that is and continuing to work on my slider, which I am still doing and I am still throwing the splitter.  I am trying to strike out a few more guys, but not at the cost of what I do well which is throwing strikes, getting groundballs, and going deeper giving the team some length if they need it."
While Herrmann is very happy pitching in the bullpen, he would never rule out going back to starting.
"I [like the bullpen] just because I have a pretty durable arm where I can throw a little bit more consistently," said Herrmann.  "If you have that bad day you can go back out there a day or two later.  Starting is kind of like high school football because you wait until the weekend because that is your big day.  If you have a bad game you have to sit on it for a week and think about it.  I like getting out there a little more frequently and being able to work on things.  I would never rule out going back to starting if they said they need me to start.  I like that I can do both if they need that flexibility, and I can provide it."
As an undrafted free agent it is a harder road to hoe to get that big league opportunity, especially after the influx of so many high level pitching prospects into the farm system after all the trades last season.
Non-roster invites to big league spring training camp are not easy to come by for players from within the Indians' farm system.  The Indians simply don't hand them out to guys just because they will be in Double-A or Triple-A, they give them to the guys who they think can help them at the big league level at some point in the upcoming season.  By giving them the invite, it allows the big league coaching staff and front office to get a longer look at them, in some cases their first actual look at them.
"It was awesome and it was a great experience," said Herrmann about his first big league spring training camp he attended this year.  "Especially after four minor league camps where you always see those guys doing their own stretch, so it was cool being on the other side and getting a taste.  I was telling guys how valuable it is too.  If I do get called up this year and get the opportunity, I would feel a lot less intimidated as I faced Vladimir Guerrero and Nelson Cruz already, I was in the locker room

with Sizemore, Hafner and those guys, and I know Tony [Amato] and all the clubhouse staff.  Even though it was just spring training, it just wouldn't be like you are called up and all of a sudden I am saying 'where am I?'  Like the Winter Development Program, it just eases you into the process when you get up there.  They know what they are doing and they have it down pat by now."
Even better for Herrmann as well as the other young players who participated at spring training this year was the big league team has a completely new coaching staff.  There are no preconceived opinions of players and new Indians Manager Manny Acta and his staff went out of their way to get to know a lot of the young players who would be stashed at Double-A and Triple-A this year that they know at some point will be key pieces to the big league team in the near future.
"It's cool to have some fresh eyes on you at the big league level," said Herrmann.  "I have been here for four years and I didn't really know Eric Wedge, Carl Willis et al.  [Pitching Coaching Tim] Belcher is really good as if you want to talk about anything you can go and ask him a question as he has the experience as a former player and is a smart guy and done the advanced scouting.  So I was happy to see a change, as I thought I was doing well and I never really got an opportunity."
Being in Triple-A the approach of the games and the makeup of the clubhouse is very close to how things are in the big leagues.  No longer are relievers going out to get work in on a set schedule, they now go into every game with a legit opportunity to pitch.  Also, the roster is peppered with players who have former Major League experience, some of them many years of experience who are trying to hang onto their playing career.
"I was just talking to Steven Wright about that the other day," said Herrmann.  "Last year he was new to the bullpen too as [at Double-A Akron] he would throw and then have two days off and then throw again so he always knew when he would throw.  But now [here at Columbus] we don't know who it will be as it depends on the game situation whether we are ahead, tied or down.  It could be anyone.  We like that because that is how it is in the major leagues too."
Unlike the previous offseason where Herrmann spent a lot of time applying his degree from Harvard working on Wall Street, he spent the better part of this past offseason getting ready for what is a big season for him.  In the process he also got engaged to his fiancé Joanna and moved across country from New Jersey to California.
"I didn't work on Wall Street [last offseason]," said Herrmann.  "I got engaged and moved to Manhattan Beach in California.  My fiancé is in grad school at USC.  She talked daily [to Jeff Stevens' girlfriend Christina], and Joanna went out there to visit Christina and loved it, so she went to USC which was great for her program.  It's a big change for a guy from New Jersey, but it's awesome.  I was walking my dog on the beach and asking myself 'what am I doing?' as back home I'd be in the snow (laughs).  Jeff Stevens and I threw at Loyola Marymount.  My fiancé and his longtime girlfriend are good friends, so it was cool as we had some friends out there.  Stevens and his girlfriend both went to LMU which is the next town over from Manhattan Beach.  There is a good little network of pro guys that workout and throw together there."
As many Indians fans will recall, Jeff Stevens was in the organization for three years from 2006-2008 before being traded to the Chicago Cubs in the Mark DeRosa deal on December 31, 2008.  Stevens and Herrmann played together at Single-A Lake County in 2006, High-A Kinston in 2007 and at Akron in 2008, so became good friends and still keep in contact with one another.  His connection with Stevens is what ultimately led to him meeting his fiancé.
"Joanna and Christina would sit in the stands together in 2006 and 2007 and part of 2008 when he was there [in Akron]," said Herrmann.  "So we played together for parts of three seasons after the trade.  The wives and girlfriends have a lot of time when we go to the field at 1:30 for a game, so they go shopping and do their thing and a lot of times they become friends.  Jeff and I are good friends, and we had always kept in touch texting and that stuff."
Herrmann's wedding will be sometime this November and back on the East Coast in Boston where both of their families will be able to more easily attend.  But for now those wedding plans have taken a backseat as the main focus for him at the moment is to go out this year and have a solid season and possibly make his Major league debut.
"I think that would have to be it," said Herrmann about his goal this year being to reach the big leagues.  "That's what it should be.  I did what I wanted to last year as I had a sub-three ERA and was able to pitch 75 innings.  I'm just trying to get there.  Once step at a time."
Follow Tony and the Indians Prospect Insider on Twitter @tlastoria.  His new book the 2010 Cleveland Indians Top 100 Prospects & More is also available for purchase on Amazon.com or his site.