Adams Still Learning, But Impressing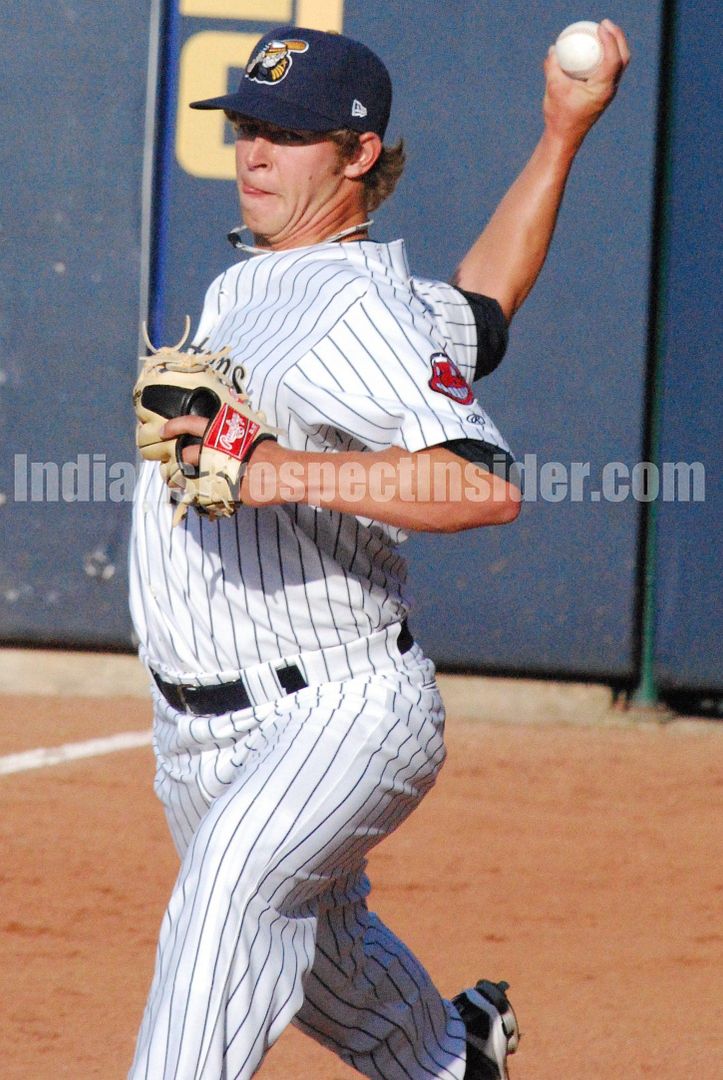 It's a tough transition for any player this late in the game to switch from being a position player to a pitcher full time, or vice versa. That player has spent years gaining experience and building credibility at a specific position, only to have to start from square one again and practically learn a new role almost from scratch and try to develop a new successful reputation there.
That's what Low-A Lake County right-handed pitcher Austin Adams is doing these days as he went from being a highly regarded shortstop prospect in college who only pitched occasionally to a full time pitcher now that he is in the Indians organization.
Adams was initially drafted in the 27th round of the 2008 Draft by the Milwaukee Brewers as a shortstop but did not sign. Teams liked his surprising power at the position and athleticism as he hit .398 with 11 HR and 49 RBI his junior season. Upon returning to college at Faulkner University in Alabama last year for his senior season he moved into a more established role as a starting pitcher. Previously he had only pitched in relief as the team's closer his freshman through junior seasons and in his junior season in 2008 his 12 saves led the collegiate ranks. As a starter he got to showcase his raw talent on the mound with a plus-plus fastball that reached as high as 98 MPH and some promising secondary stuff, all while still playing shortstop in the games he did not start and hit .398 with 14 HR and 51 RBI.
With his success on the mound his senior season, teams were very interested in Adams not only as a shortstop, but as a pitcher as well. The buzz about his pitching certainly helped his draft status, and is what ultimately led to the Indians selecting him in the 5th round of last year's draft. While there was interesting potential for him at shortstop, the Indians felt he had a gifted arm and limitless potential as a pitcher, so decided to develop him as a pitcher right out of the gates.
"I closed my freshman through junior year at school, but last year I started something like five or six games," said Adams in a recent interview at Classic Park in Eastlake, Ohio. "I guess they saw something they liked. I know this year they want me to start some to get more innings, and learn how to pitch more. I don't know if they are going to stick with that or see what happens and go from there."
Adams was solid in his professional debut at short-season Single-A Mahoning Valley last year where in 17 relief appearances he went 3-1 with 1 save and a 4.86 ERA, and in 37.0 innings allowed 39 hits, 15 walks and had 29 strikeouts. His velocity was noticeably down in the low 90s for most of his time in Mahoning Valley, likely from fatigue, so his numbers suffered a little. Having pitched so much for the first time in his career he seemed to battle through a dead arm phase for most of Mahoning Valley's season before things started to pick up for him near the end of the season and in Instructional League in the fall.
This year the Indians are trying to increase Adams' experience level as a pitcher since he is still so raw on the mound and still learning all the nuances that come with pitching. As a result, even though they see him as a reliever, he is starting and being stretched out to four to five innings an outing in order to help increase his exposure to many game situations as well as developing his mechanics, pitches, and mental approach to pitching. He is currently piggybacking with right-hander Marty Popham where one starts and goes four or five innings and then the other comes in relief to finish the game, and then the next game they flip roles.
"It's a little different [piggybacking], but I am used to it coming out of the bullpen because that is what I did in Mahoning last year," said Adams. "Popham had never done that before. It's not much different really, you just have to have your game plan."
The development of Adams' fastball command and at least one average secondary pitch is vital to his future success. In college he primarily just relied on a two pitch mix of his powerful fastball and a nice power curveball, but the Indians would like to see him develop his changeup some and have also added a slider to his pitch mix. The development of the slider is a work in progress, but is going well so far.
"It's going good so far," said Adams. "I am starting to get ahead of batters better. I have been working on a slider a little bit, but other than that I am just throwing fastball, curveball, changeup and slider now."
The Indians feel that with his athleticism Adams should be able to adapt quicker and better learn to repeat his delivery. He is still learning to pitch within himself as his stuff has a tendency to flatten out when he overthrows, which is not uncommon for someone as raw as him on the mound. They will manage his workload since he doesn't have a full time starting history, but even with a reduced starting workload he will have ample opportunities this year between his innings on the mound and bullpen sessions in between games to iron out the flaws in his delivery and with his pitches.
"I think they are going to try to keep me a little bit right below 100," said Adams about his expected innings workload this season. "It's going to be a big adjustment throwing everyday and trying to keep the arm in shape and healthy all the time, and to keep my body in shape for 140 games."
Indians Minor League Pitching Coordinator Dave Miller has been impressed with what he has seen from Adams in the short amount of time he has had to work with him since he was drafted, and is really excited about his potential.
"Austin is a guy we are really excited about it," said Miller in an interview last week in Myrtle Beach. "He's a guy who didn't pitch a lot in college and played a lot of shortstop, but it translates because he is so athletic that he is easier to work with. He also has a good head on his shoulders and arm strength. It is just a matter of not doing too much too early as he hasn't pitched a lot. So we are limiting his pitches and innings right now just to keep his workload and pitches he throws each outing and try to control that a little bit. This is a kid who has a bright future because he has above average arm strength and throws 93-96 MPH consistently, and also shows an above average out pitch in a curveball and slider too."
Considering Adams is so inexperienced, unlike most college players he will likely spend a majority of the season in Lake County to focus more on his development rather than trying to push him quickly to the next level at High-A Kinston. The good thing, is he is not worried about when or if he is moved up to a new level as his goals are in line with exactly what the organization wants to see.
"Just get better," said Adams. "Learn to use my pitches better, and learn how to pitch and not just go up there and throw."
If Adams can continue to develop all while gaining the much needed experience as a pitcher, he has good potential as a big league reliever, which is something the Indians could definitely use down the road.
Follow Tony and the Indians Prospect Insider on Twitter @tlastoria.  His new book the 2010 Cleveland Indians Top 100 Prospects & More is also available for purchase on Amazon.com or his site.