Check Yes or No
The difficulties sportswriters seem to have with multiple-choice questions after the jump.
Around the same time last year, I appeared in this space, more than a little miffed that Roberto Alomar had been prevented from entering the Hall of Fame in his first year of eligibility.  Many readers shared my outrage, but many also responded: Don't worry.  It was his first year on the ballot…he's a shoe-in next year.
Well, they were right.  This past week, 90% of the eligible baseball sportswriters of
America voted Roberto Alomar into the Hall of Fame—more than enough to solidify his place among the all-time greats of the sport and earn him a plaque in Cooperstown, NY.  79.7% of the sportswriters also voted for Bert Blyleven, ensuring that he will have a room booked at the Otesaga resort for the weekend of July 22.
Both are deserving.  Alomar was arguably the best second baseman of his generation.  In 22 seasons, Blyleven piled up 287 wins, 3701 strikeouts, and a few All-Star appearances.  He's also been the subject of a grassroots campaign to get him elected for a number of years.
In the end, I should feel vindicated, right?  Alomar's in.  So is Blyleven.
What changed?
A year ago, this same group of writers decided—by majority vote—that neither of these two ballplayers had performed well enough throughout their respective careers to be considered Hall of Fame material.  Yet, here we are.  Now they're good enough?
Did I miss their respective comebacks to the game of baseball?  Did Roberto Alomar's stats go on a strict training regiment and diet in order to more properly prepare for this year's vote?  Did we uncover some undiscovered footage of Bert Blyleven pitching in high school, like ESPN did with Marcus Dupree in its 30 for 30 series?  Were the voters visited by Lucca Brazzi and given an offer they couldn't refuse?
The problem is that many voters do not cast their ballots to answer the question at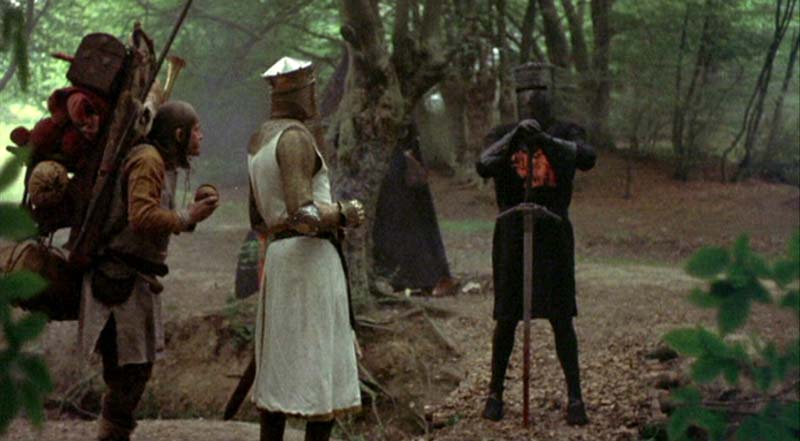 hand.  Baseball is a sport that pre-dates the Civil War.  People have been playing it professionally since before the turn of the Twentieth Century.  As a result, many writers who have devoted their professional lives to the sport perceive themselves to be the guardians of baseball history and all that is holy.  They are the self-appointed Knights of the Diamond-Shaped Table, tasked with guarding the Holy Grail of the past.
In some instances, they are correct, baseball's past must be kept sacred and unchanged—the seventh inning stretch, a hot dog and beer at the ball game, Goose Gossage's mustache.  However, Sir Sports-a-lot and King Bud have often clung to the tenets of the past while stubbornly blocking the progress of the game—the implementation of instant replay, the slow adaptation of anti-PED legislation, Pete Rose's hair.  These people have become Monty Python's Black Knight, obstinately fighting a losing battle in the court of public opinion.
In the end, sportswriters are asked to answer one question: Is player x a Hall-of-Famer? Instead, they try to vote according to a perceived situation.  They feel that if Roberto Alomar is inducted with five or six other players, his honor is diminished.  Either he won't receive enough attention for his accomplishments, or he'll take away from the celebrations for other lesser-known but still deserving inductees.  They see it as a way of protecting the history of baseball and the reputation of the Hall of Fame.
But that's not their job.  Their job is to answer the question.
Is Player X a Hall-of-Famer?
Next year, do us all a favor.  In the words of George Strait, Check Yes or No.
---
Josh Deitch constantly fights losing battles while getting his limbs cut off.  Visit him on Facebook or Twitter.