Turning the Corner in DC
The future for the Washington Nationals is about to arrive. Â The major league team looks vastly improved from the ones that finished dead last among the 30 teams two years in a row. Â But Baseball America's new rankings put the Washington development pipeline at number 13 among MLB organizations. Â That climb from the bottom may be as important as anything we will see this year from the major league team. Â Dramatic changes are arriving this year for Washington baseball–mark my words please.
The Seamheads' show, "Outta the Parkway", will have Baseball America's Jim Callis on at the end of April to talk about the new rankings and the upcoming June draft. Washington will have three top picks in one of the richest classes in quite a few years. Â Tampa Bay has set the standard for building from within. Â They will have a slew of picks after losing their entire bullpen to free agency. Â But Washington is close behind and will pick twice before the Rays get their first say.
Organizational strength comes not just from the draft, however. Talent scouts who can pick up a Mike Morse from the bargain bins are a big part of the game as well. Â Michael Morse is going to have a monster year in 2011. Â He is likely to hit fifth in a lineup that will feature Jayson Werth, Ryan Zimmerman, and Adam LaRoche ahead of him, so there is a good chance he will rack up a good RBI total–note to fantasy leaguers, Morse is a great late round pick, and he is likely to qualify at numerous positions before the end of the season too.
The richness of the Nationals' minor league organization is built around Bryce Harper of course, but he has a nice cast of supporting actors. Â Derek Norris is cast as the strong silent type who will push Wilson Ramos as the front line catcher. Â A.J. Cole was one of the highest ranked pitchers in last year's draft and the Nationals picked him up in the fourth round and signed him despite the concern that he was headed to college. Â There are dark horse, late round talents as well in the Nationals organization. Â Tom Milone out-pitched Kyle Drabek in the Eastern League last season and will head to Syracuse to see if his soft tosses translate at the highest levels. Â 23-year old Tyler Moore let the minors in home runs and he will get a chance to prove himself at higher levels this season as well.
So when you add three high end talents from the 2011 amateur draft in June to the mix, it becomes combustible. Â The Nationals will chose sixth overall in the first round of the draft. Â Theirs is an enviable dilemma, whether to take what may be the best overall talent in the draft–high schooler Bubba Starling–or pick from the more certain college players. Â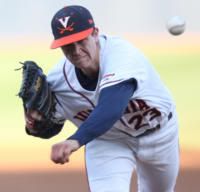 Washington in recent drafts has gone for the quicker, more reliable arrayu of college talent and this year the college class is far deeper than most recent ones. Â One of the likely targets for the Nationals will be local boy Danny Hultzen who is pitching like he wants to be one of those very special talents.
Hultzen attended St. Albans Preparatory High School in DC, one of the finest schools in the country. Â He then moved on to the University of Virginia because he wanted to be assured a college degree as well as a shot at a major league baseball career. He is having a junior season for the Cavaliers that has pushed them to number three in the college rankings. Â He has 62 strikeouts in 34 innings so far this season and a 1.04 ERA and four wins to go with those eye-popping strikeout stats. Â Oh yeah, and he has walked all of four batters.
Hultzen sounds remarkably like Jack McGeary who was drafted by the Nationals in 2007. McGeary demanded as part of his signing package that he be allowed to complete college at Stanford where he is graduating in June. McGeary will likely pitch in Potomac this season where Hultzen might appear if he signs early enough. So when the Nationals say there is depth in their farm system, they may be able to claim intellectual depth as well.
If Hultzen is gone, the likely choice would be Taylor Jungmann, a Longhorn pitcher in the mold of Josh Beckett, though he may not throw as hard. It will be hard to make a mistake if the choice is between Hultzen and Jungmann, though pitchers are difficult to project. Â But the Nationals will have picks at 23 and 34 as insurance. Â My choices would be Mike Mahtook of LSU and Preston Tucker of Florida. Â Both are toolsy college outfielders who can run, throw and hit for power. Â They would add depth to the offensive profile of an organization that is lacking in real star quality after Derek Norris. I look forward to getting Jim Callis' perspective on that issue in a few weeks.
The signing of Jayson Werth is just the tip of the iceberg for new talent in DC. Â Washington baseball is going to take significant strides this season. Don't look now but when you turn the next corner you may just meet the up and coming Washington Nationals. Â They are building the kind of system that will keep them among the top tier of competitive franchises for years to come. Â  And you have my word on that one as well.