Stanley "Doc" Glenn Fondly Remembered in Quebec
Word came down the other day that 84-year old Stanley "Doc" Glenn had passed away on April 16. Glenn, a rangy 6' 2" son of a Virginia fisherman who once described himself as a journeyman catcher, was in fact a superior defensive rearguard with a great arm. During the 1940s he made his mark with the Philadelphia Stars of the Negro Leagues.
When the fortunes of black baseball declined at the end of the decade, he signed with the Boston Braves organization. After a couple of seasons in Hartford, he spent the last five years or so of his baseball life in the Canadian provinces of Quebec and Ontario.
Then, his baseball journey completed, he returned to his home town of Yeadon, PA and entered the electrical supply business. More recently he became active in the Negro League Baseball Players Association, eventually becoming its president. While Doc is rightly honoured for his place in the history of the Negro Leagues, it is useful to remember that he holds a spot in the Canadian baseball narrative as well.
The Negro Leagues
A prodigy of sorts when he played high school ball in Philadelphia, Stanley was signed by Oscar Charleston right from high school. He remained with the Stars throughout the 1940s, apart from a brief interruption caused by World War II where he served as an Army Medical Corps technician — hence the nickname "Doc". This experience sparked an interest in physiotherapy, such that he pursued further studies, receiving a diploma from the Philadelphia Physiotherapy centre in 1951. For some time afterward he kept his hand in, as it were, during the off-season with part-time work in the field.
In the Negro Leagues, Doc played with and against some of the greatest in the game, from Satchel Paige and Josh Gibson to Monte Irvin and Roy Campanella. Of Paige, Glenn once said, "As hard as he threw, the ball was like a feather. It was so easy to catch him, mainly because he was always around the plate." Doc's nephew Carson "Cal" Puriefoy remembers seeing his uncle "play against Larry Doby when he played for the Newark Eagles before he went up to the Cleveland Indians. He played against …Jackie Robinson. I remember watching him play at Shibe Park. Negro League teams could play in major league ballparks on Mondays. That was one day when they didn't play their games."
Glenn believed that "Negro League baseball is history, and a part of American history," recalls Puriefoy, and as if to underscore that conviction, in 2006, when he was 80 years old, Glenn wrote about his baseball experiences in the book Don't Let Anyone Take Your Joy Away: A Inside Look at Negro League Baseball and its Legacy. Doc believed that Jackie Robinson's courageous breaking through the colour barrier did more for civil rights than even the landmark Brown v Board of Education decision. "It was tough," he wrote, referring to the world he and Robinson frequented, "but I loved it so much I would gladly do it again."
One reviewer had this to say of Glenn's book: "Through his blend of humorous anecdotes, inspiring words of wisdom, and colorful imagery, Mr. Glenn wonderfully conveys the bittersweet paradox that was the Negro league Baseball experience." Timothy M. Gay, author of Satch, Diz and Rapid Robert, describes Glenn's autobiography as being "full of much gentle wisdom," adding that it "helped me grasp the sad nobility of blackball." The book is available from Amazon.
The Negro Leagues began their reluctant slip to oblivion in the late 1940s when a smattering of major league teams, inspired by the example of Branch Rickey and the Brooklyn Dodgers, and including the Boston Braves, began redefining themselves and opening doors to black ballplayers. It was a slow process: in 1950, the year the Braves' Sam Jethroe won the National League Rookie-of-the-Year Award, there were still only nine black players in the big leagues, on one of only four clubs.
Doc Glenn in Quebec City
The Quebec Years
The Boston Braves scouted and signed a number of players of colour in the early 1950s, including Doc Glenn. The legendary Roland Hemond, who crossed paths with Glenn first at Hartford and later at the Braves minor league spring training facility in Waycross, GA, remembers him then as a "nice guy, great receiver."
According to a 1953 article in a Quebec City French-language Sports magazine, Glenn had come off an excellent 1949 season with the Stars, batting .342, with 14 home runs (Other sources quote different figures, but who's to argue.), and the Braves had him penciled in as afuture backstop with the big club. Glenn experienced his first taste of Organized Baseball in mid-season 1950 at Hartford, CT. Regrettably for him, as he told his Quebec City interviewer, the club tried to turn him into more of a pull hitter and began toying with his batting stance. The result was what Glenn called "the worst moments of my career." Over night his numbers plummeted. The once .300-plus hitter was now struggling in the mid .260 range.
Two years later, his progress stalled, Glenn was assigned to the Quebec Braves of Quebec's Provincial League.  Although it was rated as a Class-C loop, former players will tell you the quality of play was at a Class-A level. Right-handed pitcher John Ambrose, a close friend of Glenn's in those years, has always maintained that the only justification for the league's low classification was to keep player salaries down.
In 1952 the Quebec club, piloted by former major-leaguer George McQuinn (Glenn's boyhood idol, according to one report), ended the season in second place, but then went on a tear in the post-season, winning the league championship.
After first defeating Three Rivers in seven games, they faced the St. Hyacinthe Athletics in the league finals. That year the A's, who had narrowly beaten out Quebec for the pennant, were a Petri-dish overflowing with baseball pioneers. Hector Lopez (1955), Joe Taylor (1954) and Bob Trice (1953) all made it to the majors, while 35-year-old power hitter Al Pinkston, who won the league's Triple Crown, went on to stardom in the Mexican League. There, by now in his 40s, he won four consecutive batting titles. In 1975 Pinkston became the first American player ever elected to the Mexican League Hall of Fame.
The championship series went right down to the wire, with Quebec again winning in seven games. That season Glenn batted .248, with 5 home runs and 27 runs batted in, in 75 matches. To his great disappointment, much of his playing time was spent occupying first or third base, as prospect Roger McCardell had become the club's catcher of choice.
The following spring, after first assigning Glenn to their Lincoln, Nebraska farm team, the Braves asked if he might rather return to Quebec. "I would go there with pleasure," he answered. He was now married and with his wife accompanying him on his travels, Doc was undoubtedly drawn to the city's warm environment and gracious acceptance of black residents.
The 1953 season was something of a repeat of 1952 for the Braves. Again the club missed out on the pennant but was triumphant in the post-season, once more claiming the league championship in seven games. Glenn had an outstanding year. He returned to his natural position behind the plate and led the league in fielding percentage. But more important, he regained his confidence with the bat. It had taken two years, but the results were clear. He ended the season with a .275 batting average (in 110 games), along with 16 home runs and 90 runs batted in. Later in life, when once asked if any one game stood out in memory he referred to his days in Quebec.  "I hit five home runs in a doubleheader in Canada against the Phillies organization in Granby in the Provincial League. I guess that was my best offensive productive day."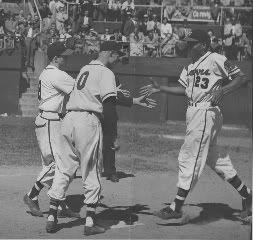 Doc Glenn's home-run trot in Quebec City
St. Thomas, Ontario
Following the 1953 season, Glenn and Ambrose left Quebec, the Braves' organization, and organized baseball to hook up with the St. Thomas (Ontario) Elgins of the independent Inter-County Baseball League. Ambrose's off-season home was in New Jersey, not far from Glenn's Philadelphia base and over the winter a Braves scout who had once managed in the Inter-County League called them together to present them with an interesting proposition. The scout had learned that St. Thomas was in need of a pitcher/catcher duo and, should they so wish, he was prepared to recommend the Quebec City battery as being the perfect solution.
In short order, Doc and John agreed to terms, and a few phone calls later, the deal was stuck. The two men were about to face a new, and, as it turned out, highly rewarding challenge in the heartland of rural Ontario.
John Ambrose remembers those years fondly. He and Doc had grown to become more than teammates in Quebec; they were friends who respected and trusted each other both on and off the field. John put it succinctly in a recent telephone interview: "Doc was a good catcher, a really good defensive catcher, and he called a good game. He could also knock a few out of the park when he had to. He and I got on especially well. We saw things the same way and so I trusted him (in 1953 Ambrose was 15-5 with a 3.09 ERA in Quebec). And he was a great teammate. We worked well together."
Formally classified as a semi-professional senior league, the Inter-County Baseball League in those years bore all the trappings of an "outlaw" circuit. Refugees from the professional leagues and former major leaguers looked to the Inter-County as another career option, to the point that the loop was thought be the equal of many minor pro circuits. In fact, to some it was an improvement. The money was better, the schedule was lighter, and it was even possible to explore a career beyond the diamond. Ambrose, in fact, married a young lady from St. Thomas and went into the plumbing business. He still resides there.
During the mid-1950s Inter-County League baseball was the region's hit du jour, with crowds jamming local ball parks, especially as many games were now played at night. And the Elgins were the class of the league. Based in cozy Pinafore Park (the ball park is now called Emslie Field, in honour of old-time major leaguer and legendary umpire, Bob Emslie, a St. Thomas native), and led by Doc Glenn and John Ambrose, the Elgins captured league championships in both 1954 and 1955.
Ambrose was the winning pitcher in the 1954 series-clinching game against the Galt Terriers, played in St. Thomas before 2300 spectators. Doc Glenn added a two-run homer of his own. Starring for Galt was Fred Thomas, a Canadian sports legend now largely forgotten, who went four-for-four in a losing effort. Thomas had established himself as one of Canada's premier basketball players when playing with Assumption College, now the University of Windsor, in the 1940s. In four years at the school, he scored 2,059 points, third on the NCAA list at the time. In 1945 he led Assumption to a shocking 49-45 triumph over the Harlem Globetrotters and later toured with them for two years. He played some football with the Toronto Argonauts of the Canadian Football League in 1949. And he made baseball history in 1948 when, as a member of the Wilkes-Barre baseball club, he became the first black player in the Eastern League. Oddly enough, he was actually the second Canadian ballplayer to bear the distinction of integrating a professional baseball league. Manny McIntyre, also highly regarded for his hockey skills, accomplished the same feat with Sherbrooke (Quebec) of the Border League in 1946.
In 1955, the Elgins repeated as champions by knocking off the Oshawa Merchants. At the time the Merchants were bolstered greatly by the presence of legendary Negro Leagues veteran Wilmer Fields in their line-up. He was used as both a pitcher and outfielder.
St. Thomas would win one more championship in 1958, this time with Ambrose leading on his own. Doc had returned to the Philadelphia area and home.
Life after Baseball
Following the 1955 championship season, Doc Glenn sensed it was time leave baseball behind and get on with life. He had just completed the extraordinary feat of playing for four championship teams in four consecutive years, two each in Quebec City and St. Thomas. The timing was right to turn to other things.
As he told biographer Brent Kelly, "I was married then and ready to raise a family, and I wasn't going any place, so it was time for me to get out of there." He returned to Pennsylvania, to the town of Yeadon where he went into the electrical supply business. "I always had a knack for electricity," he said. "I stayed in there about 40 years and made a real good living for myself and my family."
In more recent years Glenn became involved with the Negro Leagues Baseball Players Association, eventually becoming association president. His fellow board members included other former Provincial League players, such as Ernest Burke; Bill Cash; Max Manning; and Willie Pope. According to the Internet site, Baseball Happenings, Glenn "advocated for the rights of many of the former players and helped to create opportunities for them to share in the profits that many companies were making off of the renewed interest in the former league."
His efforts were acknowledged in a number of ways. In 1994 he was one of several Negro Leagues players received at the White House by Vice-President Al Gore; he was present in 2003 when the Philadelphia Stars were honoured with a Negro Leagues Memorial Statue; in 2004 he was inducted into the Maryland Eastern Shore Baseball Hall of Fame; in 2007 he was one of four former Stars players recognized by the Philadelphia Sports Writers Association.
Toward the end of his life Glenn became a fixture at many Philadelphia-area sporting events, participating in a range of reunion-styled Negro Leagues activities, reminding folks of a time when more than just the baseball was white, and the National Pastime was the lesser for it.
Doc's passing, as Baseball Happenings somberly reminds us, "dims another beacon that was able to illuminate the rich history of the Negro Leagues."
But we are the lucky ones — for to us he left a shining legacy of working to shape the nature and the history of baseball. And along the way, from the north-east corner of America to central Canada, he touched hearts and made friends. Not a bad accomplishment at all.
Stanley 'Doc' Glenn: may he rest in peace.
Sources
Baseball Happenings: http://www.baseballhappenings.net/; http://www.theibl.ca/http://www.phillytrib.com/tribune/baseballheadlines/18794-local-negro-leaguer-stanley-doc-glenn-dies.html/
Negro Leagues Baseball Museum (Facebook)
Negro League Baseball Players Association Website
"Le secret de Stanley Glenn dévoilé, » in Les Sports, Québec, 1er juillet, 1953. (Trans : Un-masking the secret of Stanley Glenn)
Kelley, Brent. Voices from the Negro Leagues: Conversations with 52 Baseball Standouts. (Jefferson NC: McFarlane and Company, 1998)
Threston, Christopher. The Integration of Baseball in Philadelphia (Jefferson, North Carolina: McFarland and Company, 2003