The Catch of the Young Season
Several years ago I went up to Harrisburg to interview Justin Maxwell, the promising young outfielder of the Harrisburg Senators at the time. He was a warm and sincere young man and I spoke to John Stearns about the Maryland native and came away impressed. Yet truthfully it was another player who caught my eye and really had a much better day at the plate and in the field. His name was Rogearvin Bernadina, a player from Curacao whose first name has been Americanized to Roger.
Watching that day in Harrisburg it was impossible not to see how the ball jumped off his bat and how smooth and graceful he was in the outfield. He made a sensational play tracking a ball into the right field corner–where he played giving center to Maxwell. He turned after corralling the ball and threw on a belt line into third base to hold the runner to a double. Â I asked Stearns who the young man was and was told the story of his late arrival to baseball, that he had been a soccer player who was still learning the game but had real potential if he worked hard. Â Four years later and Bernadina is making catches like this one to save a game against the Marlins that Washington found a way to lose regardless.
The catch has been called one of the best of this season by anyone who has seen it. Bernadina does not leap just to cushion himself as he catches the ball. It is one of those catches that is possible only because the player leaps. It is the extension that allows him to reach the ball just before it rockets over his head. Few mortals would have the athleticism to track the ball well enough to reach the it, let alone the ability to time the leap closely enough and get a glove on the ball. Not only does the ball settle into his glove, but he hangs on as he makes hard contact with the ground.
Back in 2007 John Stearns told me that Bernadina's mother was an international volley ball player of some reputation. It is impossible not to see her athleticism showing in the plays that the young outfielder makes for Washington. The question really is why such a talent has had to fight so hard to prove he can play center field in the major leagues when plays like this recent one have occurred with relative frequency.
Bernadina played 134 games last season–primarily in left field–for the Nationals.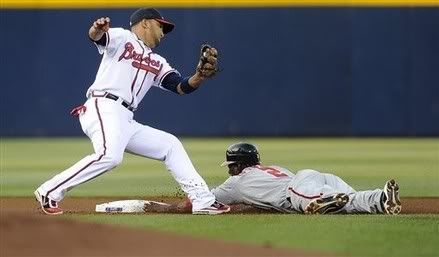 Riggleman indicated that he felt most comfortable with Bernadina in left and the rookie played well. His first season was deferred because of an all-out hustle play in center field he made to begin the 2009 season when a collision with the center field wall broke his wrist. Â Wrist injuries can rob the strength of a player as any one who has watched Nick Johnson in recent years can attest. There are few players in Nationals history who have put out more constant effort on the field than Bernadina and Nick Johnson, yet Bernadina is still struggling to convince manager Jim Riggleman that he belongs.
I talked to Riggleman in Spring Training last year and asked him in particular about Bernadina who had burned up Triple-A showing both power and speed. Â Riggleman was polite but did not wax poetic about his young outfielder and this year, despite outplaying both Nyjer Morgan and Rick Ankiel in spring training, Bernadina was ticketed for Triple-A Syracuse once again because he "needed to play every day." Indeed he did, only as it turns out, Washington needed him playing every day with the big club. The Nationals preferred to experiment with Rick Eckstein tutoring Ankiel rather than give the job to Bernadina. But Eckstein has been hard-pressed to demonstrate any magic this season with his charges and when a wrist injury sidelined the former pitching phenom from St. Louis, Bernadina was recalled to replace him.
As "the catch" demonstrates Bernadina's speed is handy in running down fly balls in the outfield. Ultimately it is more useful on the base paths.
When Roger Bernadina takes his lead at first base and peers carefully at the pitcher he reminds one of the youthful Lou Brock. In taking their leads from first base both men have the same lean and trim look, gazing in at at the pitcher in the same way a cat does when watching a bird. Both Brock and Bernadina have eyes that seem ablaze with intensity from within their coal black faces.
Bernadina has converted 25 of 30 stolen base attempts in the majors in 526 major league at bats. It is indicative of the cautious approach he has taken. The 40+ steals in several of his minor league seasons are more telling of where his talent can lead–so to speak–if he can stick at the top of the order for the Nationals.
Which is where the rub really is. Washington has remarkable young talent up and down the order from catcher Wilson Ramos to shortstop Ian Desmond. Yet the team has been struggling all season to get men on base at the top of the batting order and it has undermined what has been an otherwise good start. Yet for a team so in need of a lead off hitter, so challenged by the neediness of Nyjer Morgan and the lack of fit with Ian Desmond or any other hitter Riggleman has batted lead-off, why has it taken the first six weeks of the season for Bernadina to get a shot?
So get over it already, I tell myself. There is plenty of baseball to play. Plenty of games left when I can say, "I told you so," to those with whom I share season tickets. They have been saying for weeks now, "well other than having Roger Bernadina back up with the team, what else could we be doing?"
For now I am at a loss. But Brad Meyers was just promoted to Syracuse where Yunesky Maya is pitching well and Ross Detwiler is just a tick away from putting it all together. Michael Aubrey hit four home runs in a single game this weekend for the Chiefs, so who knows what the future may hold? It is baseball after all, where fine margins define success and failure like no other sport there is.