Yankee Stadium and the Lost Mystic
Mystic relates to something essentially religious, one of two currents. One is Renaissance poetry, the other, the lyrical: the Mystic Fray Luis de León, the beautiful poem "Vida retirada".
In this conception, mystic might relate to something in mysterious character and even the occult.
My son Sergio, who has not seen Yankees players more than Jeter, Alex Rodríguez or Posada visited several times the demolished and original Yankee Stadium and has been many more times to the new and monumental one that "money from Steinbrenner helped to build."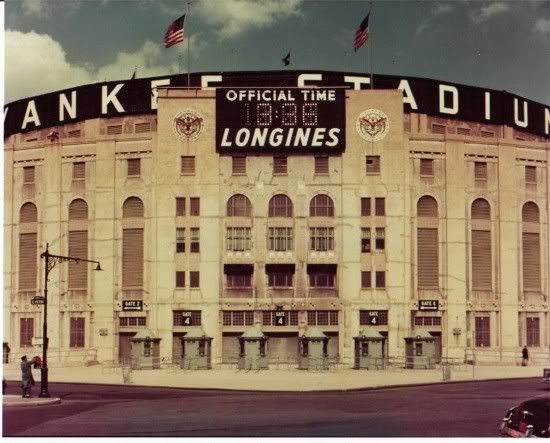 However, while he has not read about the Yankees as I suggested, he told me something recently that made me think and gave rise to this work:  He said, there is something "… so beautiful, very spacious, very comfortable, but lacks the "ghosts." There is a big difference between the two parks. A visit to the new stadium does not reveal the historical greatness of the largest American professional sports club. In the esoteric sense "here could have been stopped Babe Ruth." It is the nostalgia for past eras that can not find a true place in its new home.
In Yankee Stadium, because there was only one where the unforgettable players wrote an important part of the story of baseball like Ruth, Gehrig, Lazzery, Dimaggio, Mantle, Lefty Gomez, Bill Dickey, Tommy Heinrich, Wayte Hoyt… the Larsen perfect game was there and the catch by Amorós that helped Brooklyn win the 1955 World Series too. How many truly stellar, unforgettable moments for the pastime, were enclosed in the Bronx Castle?
Nor will there be another Sugar Ray Robinson, another Joe Louis fight another Marciano… for the new Park. With the Puerto Rican Miguel Cotto and a student for Rabbi Yuri Foreman, the attempt to bring again boxing to the ball park is not a holding "prodigal son", which was conceived in 1925 when box promoter Tex Rickert was able to convince Colonel Jack Ruppert, then owner of the great franchise, to present world-class boxing in the installation. That decision is a mistake
The New Yankee Stadium should have its own ghosts, develop its mystique and spin its own wheel of history. For what it needs much more time is a bit of life unfolding before our eyes. The mystic, old and good ghosts do not travel from home. The Yankees buried that history in the old park forever.
The new legend began with the left foot, when the black chapter of their best player being convicted of one of the most shameful crimes and dangerous for the all-time baseball: steroids. History for it started the wrong way. The new stadium should change its name. It is no longer the Yankees… the mercantilism killed the passion and any attempt to survive the severe judgment of, who does not forgive mistakes of, history, will not last.